Even Kate Middleton Can't Resist Planning Mommy-and-Me Outfits With Her Kids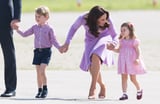 Get the Full Story
Because - for the most part - Kate Middleton is just a normal mom like the rest of us, even though her outfits are far chicer than the yoga pants and old college sweatshirts I prefer to live in, she can't help herself when it comes to planning matching ensembles with her family. Just like any of us would carefully select coordinated outfits for us and our kids to take family portraits in, Kate, who is constantly on display and being photographed, has become an absolute pro at choosing a color palette her whole family can sport comfortably.
From ensembles in blues and pinks to matching clothing items, check out all the times Kate Middleton wasn't able to resist mommy-and-me matching with Charlotte and George and a lot of times, Prince William as well! .
Related:
20 Times Kate Middleton Was Totally Just a Regular Mom
Share:
More in Lifestyle...