Chris Pratt Adorably Poses With His Raptors at the Jurassic World: Fallen Kingdom Premiere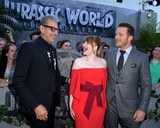 Get the Full Story
The star-studded cast of Jurassic World: Fallen Kingdom looked like one big, happy family at the film's LA premiere on Tuesday night, and we're wishing they'd adopt us into their clan. Jeff Goldblum attended the event alongside his wife, Emilie Livington, while Bryce Dallas Howard and Chris Pratt took the red carpet solo and posed with fans and realistic raptor statues along the way. But that's not all! Other stars, including James Cromwell, BD Wong, Daniella Pineda, and Justice Smith were in attendance as well, just further amping up our excitement to see the highly anticipated movie sequel. Read on to see all the FOMO-inducing footage from the premiere, and be sure to catch the film when it hits theaters on June 22.
Related:
Chris Pratt and Bryce Dallas Howard Try and Fail to Explain Jurassic Park in 60 Seconds
Share:
More in Lifestyle...