7 Facts About Pete Davidson, the Man Who Stole Ariana Grande's Heart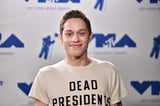 Get the Full Story
Ariana Grande and Pete Davidson have certainly had a whirlwind romance. After only a few weeks of dating, the couple are reportedly engaged! While we're certainly enjoying watching their romance blossom on social media, we're also curious to know more about the 24-year-old. For starters, the Staten Island native is a star on Saturday Night Live. He actually first met Ariana on the show, when she hosted in 2016. As more details unfold about the pair's relationship and upcoming wedding , here's everything you need to know about the man who stole Ariana's heart.
Related:
ICYMI: Ariana Grande and Pete Davidson Are Engaged, and Fans Are Losing Their Minds
Share:
More in Lifestyle...