Princess Charlotte Copied the Queen's Wave at Trooping the Colour, and It's Too Adorable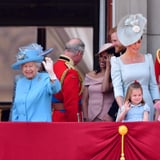 Get the Full Story
Princess Charlotte has often been compared to Queen Elizabeth II, but the 3-year-old's latest move proves that they are truly one in the same. While everyone was fawning over Meghan Markle's first Trooping the Colour on Saturday and her royal placement on the Buckingham Palace balcony , Charlotte was busy hamming it up on the front row. Aside from goofing off with her brother Prince George, the young royal was spotted copying her great-grandmother's wave.
After excitedly clapping during the ceremony, Charlotte noticed that the queen was giving a royal wave and immediately decided to do the same. Great-grandmother knows best! Not only was the move utterly adorable, but it even got a chuckle out of Kate Middleton who was standing behind Charlotte during the ceremony. Relieve the sweet moment below.
Oh my gosh I can't cope with the cuteness! Princess Charlotte notices her GanGan The Queen was waving and decided she wanted to wave too! pic.twitter.com LAMIKJTAuB
- Tea Time With The Cambridges TeaCambridges June 12, 2018
Share:
More in Lifestyle...