Justin Bieber and Hailey Baldwin Are Dating Again Because Clearly It Wasn't Too Late to Say Sorry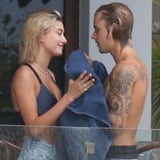 Get the Full Story
Welp, it looks like Justin Bieber and Hailey Baldwin are giving their romance another shot. According to Us Weekly, the pair is dating again. "Hailey has always loved Justin and they have been best friends, so it's no surprise that they're hooking up again," a source told the outlet.
Justin and Hailey dated on and off between 2015 and 2016 and were recently spotted getting cozy in Miami. Hailey was last linked to Shawn Mendes, though it appears they were just friends. Justin, on the other hand, recently broke things off with Selena Gomez after rekindling their romance back in October 2017 and was also linked to model Baskin Champion. I guess it wasn't too late to say sorry.
Related:
Breakup to Makeup: 37 On-Again, Off-Again Celebrity Couples
Share:
More in Lifestyle...