Your Go-To Guide For Nailing Summer's Most Popular Trend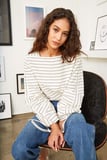 Get the Full Story
Once that thermometer hits a certain degree, we start feeling giddy. Summer's the season we look forward to all year long for its outdoor brunches, beach trips, and cute new trends. But one classic style we can always expect to spot when things warm up? Stripes - mostly because there are plenty of ways to wear 'em. From full, feminine skirts to light sweaters paired with shorts, keep scrolling for a variety of ways to wear the basic print.
Related:
27 Chic Ways to Mix and Match Prints Like a Pro
Share:
More in Lifestyle...