If You're Unlucky in Love, Don't Look at Jeff Goldblum and His Wife, Emilie Livingston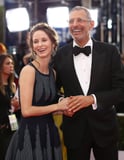 Get the Full Story
When he isn't cooking eggs in the kitchen and working each of his angles in a photographer frenzy, Jeff Goldblum is busy playing his least challenging role yet, that of the dream husband. Just ask his wife, Emilie Livingston, the Canadian dancer, aerialist, and contortionist, who populates her Instagram page with doting messages toward her wedded partner of almost four years. Our favorite shout-out? "Always touched with love, grace, inspiration, patience, laughter, humility, intelligence and tenderness by this super human!" - aw.
The devoted duo, who met in Equinox gym on Sunset Boulevard in LA, married on Nov. 8, 2014, and have since welcomed two gorgeous sons: Charlie Ocean and River Joe, who make an active appearance on their mom's social feed too. Sounds pretty dreamy, right? You better believe that they have the photo album to match! Read on for all of the Goldblums' undeniably sweet moments.
Related:
50 Photos That Will Validate Your Decades-Long Crush on Jeff Goldblum
Share:
More in Lifestyle...