Sweden's 4-Year-Old Princess Leonore Was Peak Toddler at Her Baby Sister's Baptism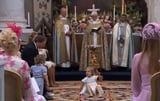 Get the Full Story
If you thought Princess Charlotte stole the show at her uncle's wedding last month, you're going to have equal admiration for another royal toddler. Princess Leonore, the 4-year-old daughter of Sweden's Princess Madeleine, has been getting her own moment in the spotlight following her baby sister's christening, which took place on June 8 at Drottningholm Palace Chapel in Stockholm.
Related:
The Real Reason All the Kids Were So Well-Behaved During the Royal Wedding
The baptism of 3-month-old Princess Adrienne couldn't keep Leonore's attention, so what did she do? She left her seat, laid down on her back in the literal center of the ceremony, and rolled around for good measure.
It was peak toddler, and anyone having to endure a religious proceeding with young kids can surely relate - especially to the look on Madeleine's face. We've all been there!
Take a look at the video and a few other hilarious shots from the event including one with a fan and one of her, ahem, choking a cousin? , as well as the far more "appropriate" family photos, ahead.
Related:
Kate Middleton Let Prince George Play With a Toy Gun, and People Are Absolutely Outraged
Share:
More in Lifestyle...