I Fell in Love With This Fluffy Rug That's Only 50 on Amazon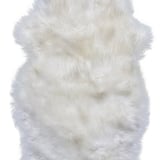 Get the Full Story
Rugs are an amazing addition to your home because they make any room feel instantly warmer. My only problem is, I don't actually like rugs. I am lucky enough to live somewhere with hardwood floors, and it feels sad to cover them up. However, without something on the floor, my living space feels cold, and it would be nice to put my feet on something soft when I get out of bed in the morning.
When I'm home, I'm partial to my UGGs no judgment, they're really comfortable and wanted something equally as cozy as a throw rug. I found this Genuine Australian Sheepskin Rug 50, originally 79 , the same material as the inside of my beloved slippers, on Amazon, and my life has never been the same.
This is definitely more of a throw than a rug. You could technically put it anywhere, over your couch, on top of a chair, or on the floor, where mine is. It makes my living space more inviting without losing the integrity of my beautiful floors, and it is genuinely a joy to step out on to something soft and fuzzy in the morning. I love this rug so much that I bough two more. The Two Pelt Sheepskin Rug 119 is slightly longer than my original purchase, so it's perfect for the foot of my bed and in front of my couch. These rugs bring me a type of joy I previously hadn't associated with home decor, and they were such an easy, affordable update to my home. I can't imagine living without them, and I'm so happy I don't have to.
Related:
This Iconic Chair Is Only 55 on Amazon - You Read That Right!
Share:
More in Lifestyle...