Here's How You Can Be Meghan Markle - For Halloween, Anyway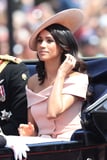 Get the Full Story
We know, we know: Halloween isn't for a couple of months, but is it really ever too early to start planning your look? This year, we're hoping to see more than a few stylish Meghan Markle impersonators walking around, and the good news is that the new Duchess of Sussex has a ton of outfits that will be very easy to replicate when it comes time to play dress up. Keep reading to see all the ways you can dress as Meghan Markle for Halloween, then check out all of her exciting 2018 milestones.
Related:
Grab a Gown and Tiara - Here's How to Pay Homage to Princess Diana This Halloween
Share:
More in Lifestyle...