The Surprising Reasons You re Breaking Out - and What To Do About It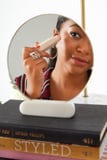 Get the Full Story
It's extremely frustrating to wake up with a cluster of zits on your face without any sort of warning or explanation - but there might be more surprising reasons you're breaking out.
Why? Keep reading to discover what might be the mysterious source of your blemishes.
Related:
The Surprising Way Your Eye Shadow Primer Can Make That Zit Disappear
Share:
More in Lifestyle...