Goodbye Paycheck - Nordstrom Just Released Tons of Discounted Jackets For Its BIG Sale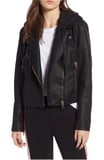 Get the Full Story
There's always room in your closet for another jacket, especially with Fall right around the corner. The Nordstrom Anniversary Sale has officially kicked off with incredible prices. Nordstrom cardmembers get early access to the deals and limited-time prices before the full sale starts on July 20. So whether you're scoring the deals early or preshopping before general access, make sure to check everything out. We curated a list of our favorite discounted jackets, so read on to stock up.
Related:
Already Excited For Fall? Check Out These 8 Boots From Nordstrom's Major Sale!
Share:
More in Lifestyle...