Joanna Gaines Found The CUTEST Pacifiers For Crew, and We're Obsessed!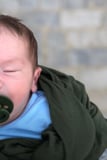 Get the Full Story
Ever since Crew Gaines made his debut on Joanna Gaines's Instagram account, we've noticed two things: that he is just as adorable as we'd imagined and that olive green is definitely his color. In the past few weeks, we've seen Crew swathed in an olive green receiving blanket sleeping peacefully in his hospital bed and on Chip Gaines's leg. When we saw little Crew's matching olive green pacifier in Joanna Gaines's Instagram Stories, we felt compelled to investigate this vision of earthy monochromatic perfection.
Source: Joanna Gaines Instagram
Turns out Bibs pacifiers come in a whole rainbow of matte-finished, trendy hues. Made in Denmark, the beautifully designed pacifiers are crafted from natural rubber, are BPA-free, and come in a classic round shape designed to turn out from the face to avoid skin irritation. The one-size-fits-all model is made to fit most newborns and can be used until its no longer needed. While glow-in-the-dark pacifiers are pretty indispensable at night, we wouldn't mind having a handful of these beauties for the day.
Share:
More in Lifestyle...