The Special Connection Meghan Markle Shares With Pal Serena Williams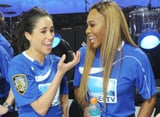 Get the Full Story
Serena Williams has been dominating Wimbledon, and on Saturday, the 36-year-old tennis champ will have a special friend cheering her on in the stands: Meghan Markle. On Thursday, Kensington Palace released a statement saying that both Meghan and Kate Middleton would be attending the women's singles final, and we could not be more excited.
Meghan and Serena first met at the Super Bowl in 2010 and have been friends ever since. In fact, Meghan frequently attends Serena's matches at the US Open and Wimbledon and Serena was front and center at Meghan and Prince Harry's nuptials earlier this year. While Meghan and Serena both "have a penchant for hot sauces and adore fashion," the duchess previously wrote on her now-deleted blog that what connects them is their "belief in exceeding expectations" and their "endless ambition." In honor of their friendship, check out some of the sweetest things Serena and Meghan have said about each other.
Related:
17 Times Serena Williams Showed Off Her Powerhouse Body in a Bikini
Share:
More in Lifestyle...