These 16 Versatile Long-Sleeve Dresses Will Be Your Go-Tos All Fall Long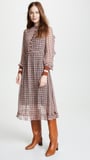 Get the Full Story
The chilly Fall air doesn't mean it's time to push your dresses to the back of your closet. There is an array of long-sleeve options that will keep you warm but looking cute. We curated a collection of our favorite picks for you to shop through - the variety of price points and styles means that there's something for everyone. See for yourself.
Related:
11 Fall Jumpsuits That Save You Time Picking Out an Outfit - Plus, They're All So Comfy!
Share:
More in Lifestyle...