Stocking Stuffers That ll Keep 4-Year-Olds Busy All Christmas Morning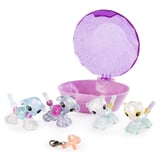 Get the Full Story
A 4-year-old on Christmas morning could either play it totally cool and unwrap their gifts excitedly, playing with each one for a bit, or could rip through everything, not really paying attention and then losing interest right after it happens . Of course they'll play with everything eventually, but instead of being intricate with your toy gifting or everything needing to be put together, we're going full-on stocking stuffer mode for our toddlers - aka small gifts that will keep them busy all morning long, with little-to-no assembly required. That way we can sip some coffee and maybe open a few gifts of our own.
Ahead, check out the 17 coolest stocking stuffer gifts for 4-year-olds and if you're on a budget, here are a few of the cheap gifts we're getting our 4-year-olds this year .
Related:
Let Amazon Do All the Work For You - Here Are Its Picks For Top 100 Toys of 2018
Share:
More in Lifestyle...