Ariana Grande Breaks Her Silence Following Pete Davidson Split: "It's Very Sad"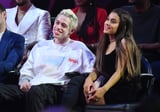 Get the Full Story
Ariana Grande is taking a break from the spotlight after ending her engagement with Pete Davidson. On Tuesday, the 25-year-old singer posted a now-deleted message on her Instagram story, telling her fans that she would be stepping away for a little bit. "Time to say bye bye again to the internet for jus a lil bit," she wrote. "It's hard not to bump news n stuff that i'm not tryna see rn. it's very sad and we're all tryin very hard to keep goin. love u. and thank u for bein here always."
Ariana has had quite the year of ups and downs. Following the release of her Sweetener album, her ex-boyfriend, Mac Miller, unexpectedly passed away and she skipped the Emmys to "take some much needed time to heal and mend." Over the weekend, Ariana and Pete split after realizing "it was way too much too soon" and she was spotted without her engagement ring while filming NBC's upcoming A Very Wicked Halloween. We're wishing Ariana all the best as she takes time to focus on herself!
Related:
Deep Breaths! An Invigorating Dance Video For Ariana Grande's "Breathin" Has Arrived
Share:
More in Lifestyle...