Pantone's 2019 Color of the Year Is the Perfect Excuse to Stock Your Closet With Coral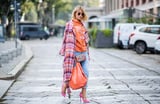 Get the Full Story
The upcoming year is coming up coral. Try saying that five times fast. In its annual tradition, Pantone determined the 2019 Color of the Year is Living Coral, a friendly color that "encourages lighthearted activity" and "embodies our desire for playful expression." In other words, it's not a super serious color, and is, in fact, quite the departure from last year's bold Ultraviolet.
Perennial trendsetters Bella Hadid and Kendall Jenner might have been onto something because they both wore similarly coral dresses while out in Paris in September. Though coral is a classic color on both the runway and in stores, we're looking forward to seeing it become more prominent in the forthcoming year. Ahead, enjoy Pantone's announcement and shop some of our favorite coral selections!
Related:
11 Trends to Say Sayonara to in 2019, and What to Replace Them With
Share:
More in Lifestyle...