29 No-Fail Winter Outfits For Girls With Curves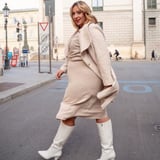 Get the Full Story
If you're already sick of throwing on your standard coat and that same old beanie before heading out the door, we have some life-changing ideas. We curated a list of looks made for partying, the office, a night out with your SO, or brunch with the gals when the temps are near freezing. While you may not feel inspired to grab your most colorful separates at this point in the game, one scroll through the outfits below, and you'll be reaching for sequins at 25 degrees Fahrenheit. Not only that, the combinations here are flattering, even though you may be braving bad weather. Scroll to feel good about your Winter wardrobe again.
Related:
Curvy Girls, These Are the 17 Prettiest Party Dresses of 2018 - Perfect For the Holidays!
Share:
More in Lifestyle...