Embrace the Chill This Winter With These Terrifying New Thrillers and Mysteries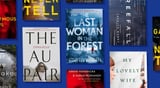 Get the Full Story
For most of the country, the weather has officially started to get really, really cold, and your bookshelf is about to be full of just as many chills. Thanks to a few months worth of the best new thrillers and mystery novels, shivers will be running up, down, and all around your spine - stock up on sweaters, y'all! From all the jaw-dropping plot twists in January's line-up of new novels all the way to the stories that will be giving you nightmares well into April, I went ahead and rounded them up for you. As a self-confessed thriller-aholic, I promise that I'll help you decide which kidnapped kid, cheating spouse, and brutal murders are worth spending a weekend or two with.
Related:
These Are the 30 Must-Read Books of 2019
Share:
More in Lifestyle...