Hobby Lobby Is Making Your Valentine's Dreams Come True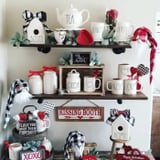 Get the Full Story
We've barely finished with Christmas and making resolutions for 2019, but there are other holidays waiting to be celebrated. Love it or hate it, it's time to get your space ready for Valentine's Day. Pretty pastels and adorable hearts help liven up the dull mood of Winter, and Hobby Lobby has already put out its decor to celebrate love. From sweet florals to farmhouse-inspired signs, the retailer has everything you need to decorate and get ready for Cupid's arrow. Click through to the gallery to strike up some inspiration, and maybe spark a little romance in your life.
Related:
Our Hearts Just Skipped a Beat - These 70 Valentine's Day Decor Ideas Are Swoon-Worthy
Share:
More in Lifestyle...