You'll Need a Fan to Cool Down After Looking at These Celebrities' Fit Instagram Pictures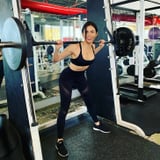 Get the Full Story
Nothing makes you want to get in shape more than seeing a hot, and we mean hot, Instagram gym picture of your favorite celeb. These celebrity photos made us break a sweat just by looking at them, not to mention, they are exactly who you should follow in 2019 if you are in need of some fitness inspiration.
So if your resolution is to get fit, these photos will give you all the motivation you need for the rest of the year . . . trust us.
Related:
These 5 Outfits Will Give You the Confidence and Motivation to Workout Anytime - And Anywhere
Share:
More in Lifestyle...