2019 Is the Year I'm Going to Organize My Home Like Marie Kondo - Here's How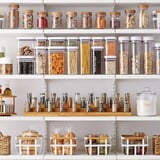 Get the Full Story
New Year's resolutions are notoriously difficult to see through all 12 months, so this year, I'm picking just a few concrete goals and going all in on execution. For 2019, I really want to get organized. Inspired by Marie Kondo's recent Netflix show and the disaster that is my t-shirt drawer, I've decided to dedicate a few hours to really decluttering. I'm focusing on the three problem areas in my apartment - my closet, kitchen, and bathroom - in hopes that a cleaner home makes for a happier and more inviting one. If you're filled with the excitement and determination that only January can bring, keep reading to learn about what I'm shopping to make my home my sanctuary.
Related:
I Don't Regret Throwing Out This 1 Sentimental Thing After Reading Marie Kondo
Share:
More in Lifestyle...