Amy Adams Customer-Serviced the Patience Out of Whitney Houston When She Worked Retail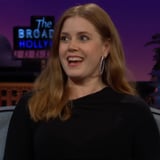 Get the Full Story
Before Amy Adams was a big-time actress and Golden Globe winner, she was a very dedicated and "annoying" employee at Gap. During an appearance on The Late Late Show with James Corden, the Sharp Objects star talked about her stint working as a greeter at the retail chain while she was living with her mom in Virginia-Highland, GA. Describing herself as a "jobsworth" - someone who firmly follows the rules and guidelines of their workplace, no matter what - Amy remembered a time when the late Whitney Houston came into the store to shop.
"There's something called the Gap Act where you have to 'greet,' 'approach,' 'product information,' 'add on clothes,' 'thank,'" she said. So when the legendary singer came into the store, Amy knew what she had to do. "Gotta Gap Act her," she said. And let's just say Whitney had quite the reaction to Amy's overbearing customer service tactics. Watch the actress, who thankfully left the retail industry, recall the hilarious story in the clip above!
Share:
More in Lifestyle...