A Final Destination Reboot is in the Works Because You Just Can't Keep Cheating Death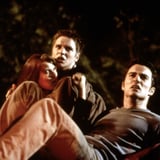 Get the Full Story
Death is coming back with a vengeance! We can officially add Final Destination to the ever-growing list of movies that are getting a reboot in the near future. On Friday, The Hollywood Reporter confirmed that New Line Cinema - the production company that churned out all five of the previous Final Destination films - is challenging fate yet again with another installment of the thriller franchise. The script will be penned by writers Marcus Dunstan and Patrick Melton, who are well-versed in the horror movie genre. They co-wrote the last four Saw films, Piranha 3DD, and The Collector. One of their latest projects Scary Stories to Tell in the Dark is also dropping in August.
Details about Final Destination's sixth chapter haven't been disclosed yet, but we can pretty much guess the general synopsis of it, thanks to the first five movies. People won't die when they're supposed to, so Death keeps chasing them down to deliver their ultimate fate and bring them to their . . . final destination get it? . Even though the overarching theme remained the same over the course of five movies and 11 years, we love a good thriller. So here's hoping that the franchise's resurrection won't end up being the death of it.
Share:
More in Lifestyle...