Shoes Are the Foundation of Your Wardrobe, and These 15 Pairs Are the Only Ones You Need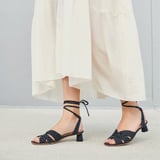 Get the Full Story
If you're building a great wardrobe, you've got to start with shoes. There's nothing worse than picking out a showstopping outfit, only to realize you don't have the right shoes to go with it. A quality shoe closet should have the following things: a great pair of sneakers, chic boots, pretty flat sandals, a comfortable work shoe, and a versatile party shoe. Lucky for you, we found all that and more. Just keep reading for the 15 shoes we can't live without.
Related:
Shoe-Lovers, Listen Up! Here Are 15 Pairs You Need to Add to Your Closet, All Under 100
Share:
More in Lifestyle...