J Lo Showed Off ALL Her Assets in This Sexy Dress - Seriously, Every. Single. One.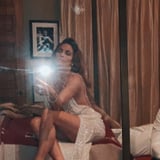 Get the Full Story
Jennifer Lopez served up a heavy dose of glitz and glamour at this year's Grammys, and TBH, we're still recovering. After walking the red carpet in a blinged-out dress and shiny heels that matched Lady Gaga's, the 49-year-old entertainer took the stage in a bedazzled bodysuit for a Motown tribute performance. But the outfit changes didn't stop there!
After the eventful award show wrapped, J Lo stripped down into a silver sequined gown that showed off all her assets - no really, the dress revealed her sculpted legs and chiseled arms while also dipping generously low on the sides. It looked like it was about to drip right off her body!
The star paired her sultry dress with chunky rings, a silver bracelet, and a pair of sexy chainlink-strap sandals designed by Stella Luna. Her heels unfortunately aren't available for purchase online, so we took it upon ourselves to hunt down a few similar styles, which you can shop below after recovering from the sheer beauty of the #OOTN photo J Lo shared on Instagram.
Related:
Lingerie, Leather, and Skin Were Aplenty at the Grammys Afterparties - See the Wow-Worthy Looks
Share:
More in Lifestyle...