Keds x Kate Spade NY Released Lavender Glitter Sneakers, So You Can Freak Out Now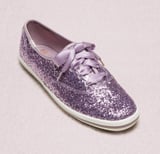 Get the Full Story
Just when the Winter doldrums are getting you down, we discovered a treat to perk you back up. These brand-new Keds x Kate Spade New York Champion Glitter Sneakers 85 were just released in a special lavender color for Spring. The satin laces and seasonal hue are so gorgeous, we can't wait to wear them all season long. These kicks are great because you can easily dress them up or down. They look just as good with jeans and a tee as with a pretty dress. The sneakers are all over the internet right now, so get a pair before they disappear! You deserve something sparkly.
Related:
I'm Loving These 40 Sneakers I Got From Nordstrom - They're So Comfy AND Cute
Share:
More in Lifestyle...