These Valentine's Day Gifts Will Arrive Faster Than You Can Say, "It's Already Valentine's Day?"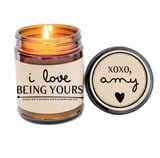 Get the Full Story
As Valentine's Day very quickly approaches, it has dawned on some of us that we still don't have a gift for our SO . . . but thanks to two-day shipping, these gifts will get to you before your partner finds out you almost forgot to get them a present! Who doesn't love that? So, here's our way of saying happy V-Day to you, last-minute shoppers!
- With Haley Lyndes, Macy Cate Williams, and Krista Jones
Related:
These 11 Lingerie Sets Look Fancy . . . but They're All on Amazon and Under 13
Share:
More in Lifestyle...