Skip the Crowds and Make a Healthy Valentine's Meal at Home With These Delicious Recipes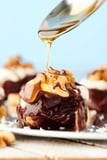 Get the Full Story
Between the chocolates and the wine, you may need a light, nutrient-rich dinner to balance things out this Valentine's Day. There might be no better way to achieve that than cooking at home. It's a sweet way to spend the holiday, and when you get into the kitchen yourself, you'll know exactly what's going into your meal or, more importantly, what's not . The dishes, sides, and desserts on this list can help you create a complete Valentine's Day menu that's both healthy and indulgent and that feels personalized to you. You might even consider cooking together for a really fun night in, no pesky crowds or dinner reservations required.
Related:
This Expert Says Wine Is Actually Good For You, and We'll Cheers to That
Share:
More in Lifestyle...