Here's Your A to Z List of All the Celebs Who Attended the Grammys This Year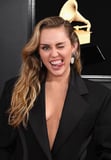 Get the Full Story
If you didn't get the chance to tune in, the 61st annual Grammy Awards aired Sunday, and what a show it was! The music event hosted all of the top-tier recording artists, songwriters, producers, engineers, and mixers who got a big round of applause plus an award, if they were lucky for their hard work this past year. The riveting show had some jaw-dropping moments, from Michelle Obama's surprise appearance to Dolly Parton's showstopping tribute and more! It goes without saying that the 2019 Grammys were hot, emotional, powerful, and definitely entertaining. Now, let's get you caught up! Here's your go-to list of celebs who attended the 2019 Grammys.
Related:
Janelle Monae Gave Us Her All - and a Little Prince - During Her 2019 Grammys Performance
Share:
More in Lifestyle...