We're Calling It: Michelle Obama's Surprise Appearance Was Our Favorite Grammys Moment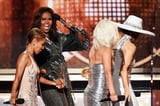 Get the Full Story
Surprise! Michelle Obama had everyone shook when she showed up to the Grammys on Sunday night. The former first lady popped up on stage in a sparkly suit at the start of the ceremony alongside host Alicia Keys, Lady Gaga, Jada Pinkett Smith, and Jennifer Lopez following Camila Cabello's energetic performance. Michelle talked about the importance of music, and to be honest, we almost missed the whole thing because we were too busy gasping for air.
"From the Motown records I wore out on the Southside, to the 'Who Run the World' songs that fueled me through this last decade, music has always helped me tell my story," she said. "Music helps us share ourselves, our dignity and sorrows, our hopes, our joys. Music shows us that all of it matters." Michelle is currently in the midst of her Becoming press tour, but we're so glad she took time out of her busy schedule to bless us with an appearance.
A big part of friendship is showing up for your girls-that's why I was thrilled to be there for the one and only aliciakeys at the #GRAMMYs. She is one of the most genuine and thoughtful people I know-there's no one better to help us all celebrate the unifying power of music! pic.twitter.com 8cMhTmsClA
- Michelle Obama MichelleObama February 11, 2019
Related:
Lady Gaga, Drake, Cardi B, and Everyone Else Who Won a Grammy This Year
Share:
More in Lifestyle...