Someone Please Give Kacey Musgraves an Award For These Iconic Hair Moments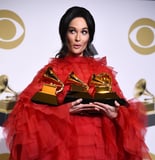 Get the Full Story
Kacey Musgraves has held many illustrious titles as of late, including - but not limited to - the "gay icon the world needs" and winner of four freakin' Grammy Awards including the casual album of the year , but there's one accolade that's way overdue in recognition: best hair.
The injustice mustn't go on any longer. Whether it's slicked back in a pin-straight style, teased to the high heavens, or living in all its glory on the 12th day of dry shampoo, Musgraves wears the hell out of it - and if you try to hide it, it's gonna shine even more. Check out everything you've been missing, ahead.
Share:
More in Lifestyle...