40 of the Most Memorable Moments From the 2019 BAFTA Awards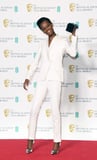 Get the Full Story
It was certainly a glamorous night at the BAFTA Film Awards this year. Celebrities flocked to the Royal Albert Hall on Feb. 10, wearing dapper suits and glamorous gowns, for a celebration of British and international film over the last 12 months. The night was filled with sweet moments from our favorite celebrity couples, a room full of talented BAFTA winners and nominees, and of course a special royal appearance from the Duke and Duchess of Cambridge, who were guests of honor.
Read on to see the very best pictures from the night, which will make you feel like you were right there too.
Share:
More in Lifestyle...