2 BTS Members Arrived at the Grammys With Pastel Hair, and BRB, I'm Calling My Colorist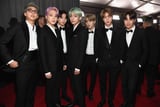 Get the Full Story
It's no secret that the guys of BTS love experimenting with their hair, but two members truly made waves on the Grammys red carpet. Park Jimin rolled up with lavender hair while Kim Taehyung wore a mint green look. We've been seeing tons of pastel hair inspiration on Instagram, but this award show appearance was exactly what we needed to try the look ourselves.
Make sure to check out every angle of BTS's red carpet arrival, then shop some affordable pastel hair dyes for yourself. Spring is around the corner, after all.
Related:
These Sexy Red Carpet Looks From the Grammys Will Leave Your Jaw on the Floor
Share:
More in Lifestyle...