These Celebrities All Lost Weight With WW and Are Living Proof the Program Works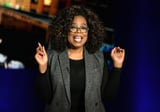 Get the Full Story
Weight Watchers rebranded itself as WW "Wellness That Works" in September 2018, but the goals of the program are still the same: help people live their best, healthiest lives. As part of its 360-degree approach to wellness, many people turn to the WW program to lose weight, and the success stories speak for themselves.
But celebrities have also jumped on the WW bandwagon and lost an impressive amount of weight. Keep reading to see the famous faces that have all found success with WW, proving that it truly is wellness that works.
Related:
4 Easy Hacks That'll Help You Stick to Your WW Plan, According to a Celebrity Chef
Share:
More in Lifestyle...