You Can't NOT Think of My Little Pony When You See Taylor Swift's Pink Ponytail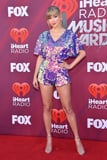 Get the Full Story
Taylor Swift brought a heavy dose of color to the iHeartRadio Music Awards - in more ways than one. The "Delicate" singer lit up the red carpet in a purple sequined romper and iridescent butterfly heels, and her beauty look was just as worthy of every heart-eye emoji. Swift rocked an electric blue cat-eye and bright pink lipstick, the latter of which matched the ends of her hair. Yep, that's right - she dyed the tips of her tousled ponytail bright pink, thus solidifying her status as an actual unicorn goddess. Is it just me or does this make you miss your childhood My Little Pony toy, too?
Related:
The iHeartRadio Music Awards Red Carpet Is Lit, So Now Your Thursday Night Is Too
Share:
More in Lifestyle...