Joe Alwyn Better Watch Out, Because Alicia Keys's 4-Year-Old Son Is Smitten With Taylor Swift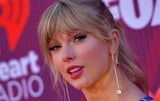 Get the Full Story
Taylor Swift might have attended the 2019 iHeartRadio Music Awards without a date, but she's certainly leaving with a new admirer. Seated next to Alicia Keys and her family, Taylor struck up a sweet friendship with Alicia's four-year-old son, Genesis Ali Dean. In fact, while accepting her innovator award, Alicia joked, "I'm sitting with Taylor and Maren and we're talking. Actually I think my son Genesis is maybe trying to take Taylor out later tonight." Alicia wasn't kidding either - Genesis pretty much stared at Taylor all night long, and it was so damn adorable. See the two interact ahead.
Related:
Taylor Swift Looks Like a Very Glam Version of the Rainbow Fish at the iHeartRadio Awards
Share:
More in Lifestyle...