Surprise! Chris Pratt Joined Garth Brooks For His iHeartRadio Music Awards Performance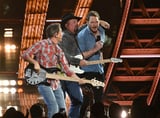 Get the Full Story
Chris Pratt channeled his inner country star for a moment when he joined Garth Brooks on stage at the iHeartRadio Music Awards on Thursday. First, Pratt presented Brooks as the iHeartRadio artist of the decade award, and he shared a funny story about the first time the pair met. "I said, 'Garth, you ever need a lead man to play you in a movie, I can make that happen," Pratt explained. "True story: he looked me square in the eyes and he said, 'Really? you know Bradley Cooper?'"
Following Pratt's introduction, Brooks hit the stage to perform a medley of some of his greatest hits. A couple songs in, Pratt surprised the crowd when he joined the country star on stage, microphone in hand, to sing a few notes himself. Keep reading for a look at the fun moment, then watch more Kacey Musgraves iHeartRadio Music Awards performance with Coldplay's Chris Martin.
Related:
Taylor Swift Subtly Teases New Music in iHeartRadio Awards Speech - What Does It Mean?!
Share:
More in Lifestyle...