Over 60 Fun-Filled Moments From This Year's iHeartRadio Music Awards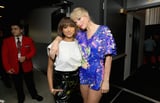 Get the Full Story
The iHeartRadio Music Awards went all out on Thursday night. Not only was the award show filled with showstopping performances, including Alicia Keys's precious performance with her son, but there were also plenty of moments that you didn't catch on TV. The Backstreet Boys took us back to the '90s with their swoon-worthy appearance, and Taylor Swift caught up with a handful of stars during the show. See some of the best moments of the night ahead!
Related:
Taylor Swift Subtly Teases New Music in iHeartRadio Awards Speech - What Does It Mean?!
Share:
More in Lifestyle...