Deployed Military Dad's Maternity Photo With His Wife Is So Emotional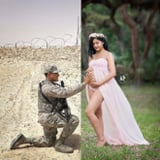 Get the Full Story
Being deployed in the military is always hard, but with a baby on the way, we can't even imagine what some of these men and women go through while away from their pregnant partners who are back at home. Vee's husband is currently deployed and will miss the birth of their first child together, so to make her maternity photos as special as possible during this difficult period apart, Miami-based photographer Jennifer Ariel used a bit of Photoshop magic to connect the mom- and dad-to-be all those miles apart.
"This mommy was so sweet, and her story touched my heart," the photographer wrote on Instagram. "Her husband is thousands of miles away serving our country. He is missing his beautiful wife's pregnancy, and will be missing the birth of his baby. Thank you to our military for sacrificing for our country."
Share:
More in Lifestyle...