Is Anyone Else's Heart Racing After Watching The CW's Batwoman Trailer? Asking For a Friend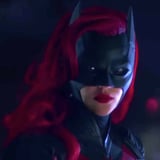 Get the Full Story
The first trailer for CW's upcoming show Batwoman is here, and it's pretty much everything you could have hoped for. In the 3-minute clip, we see Kate Kane Ruby Rose reflect on her military days when she and another woman had a romance. But it looks as though her former love interest is in danger in the present-day, and Kate - the first LGBTQ superhero lead in a series - is going to assume the Batwoman persona to stop the Gotham City villains. Cue the action-packed montage of Batwoman knocking men to the floor!
We first saw Rose at Batwoman back in October when the CW released a new poster of the crime-fighter. We knew then she'd be a cool character, but when she made her official debut appearance in the Elseworlds crossover with The Flash, Arrow, and Supergirl, it was confirmed: Batwoman is a freakin' badass. Look out for her new show this Fall!
Share:
More in Lifestyle...