5 Basic Instagram Story Hacks You Probably Never Knew About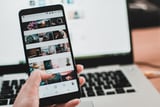 Get the Full Story
Posting photos to Instagram is pretty straightforward, but when it comes to using Instagram Stories, that's an entirely different ballgame. There are so many fun things you can do on your stories to customize your content and make your personality shine. More photos? Sure. Fun videos? All day long. In order to get the most out of your Instagram Stories, there are a handful of basic hacks every user should know about. From rainbow text to posting multiple photos in a single frame, read on for our favorite tips that you'll use again and again.
Related:
Yep, There's a Limit to How Many Instagram Stories You Can Post in 1 Day
Share:
More in Lifestyle...