Amazon Just Dropped Tons of New Summer Products, and These 42 Items Blew Us Away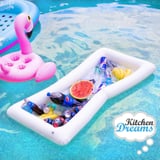 Get the Full Story
As a shopping editor, I spend my days hunting the internet for what's new, while also curating roundups of the best of the best. It always makes me feel like I'm ready for what's next, well before it even happens. I've basically been ready for Summer for months, and now every little hint of sun that we get brings me instant excitement. And by excitement, I meant the urge to the spend money. Maybe it's because the nature of my job, or maybe just because I love shopping, but to me the start of a new season always means buying new things.
This year, I have a lot on my wish list. I'm pining for the obvious stylish sandals and flattering dresses, but I would also love a portable BBQ and foldable beach chairs. Which brings me to Amazon. The massive site sells all the above for affordable prices and with fast shipping. So, why shop anywhere else, right? That said though, its large amount of choice isn't always easy to navigate. So, I did the hard for you and scoured through thousands of popular Summer items and curated a list of the absolute best available finds right now. Keep reading to shop and see how many things end up in your shopping cart.
Related: Amazon Is Selling Giant Outdoor Saunas For 1,000, So I'm Never Leaving My Backyard Again
Share:
More in Lifestyle...