Channing Tatum and Jessie J Have a Playful, PDA-Filled Day at Disneyland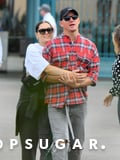 Get the Full Story
Channing Tatum and Jessie J had a magical date day at the Happiest Place on Earth on Wednesday. The adorable lovebirds took a trip to Disneyland in Anaheim, CA, where they showed some PDA as they walked hand-in-hand throughout the amusement park and enjoyed a few rides. They even showed their playful sides with Jessie giving her beau a fun-loving pinch on the nose and holding him close. During the outing, she wore a sweatshirt over a crop top with sweatpants, and Channing also looked casual in a plaid shirt with ripped jeans.
Jessie and Channing's relationship first made headlines in October 2018, though they had reportedly been dating for a couple of months prior. Since then, they've given us so many reasons to "ooh" and "awe" over their romance. Between Jessie being Channing's photographer for sexy risqu pictures and their PDA-packed moments, we can't help but to have cheesy smiles and full hearts whenever they're having fun together.
Related:
Look at Those Smiles! Jessie J and Channing Tatum Are Clearly Smitten With Each Other
Share:
More in Lifestyle...