Pottery Barn Kids Has a Toy Story 4 Collection, and We Need That Lunch Box!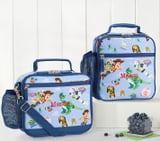 Get the Full Story
You and the kids have likely already have everything planned for when Disney's Toy Story 4 hits theaters on June 21. To help build the excitement for Woody, Jessie, and Buzz Lightyear's epic return, Pottery Barn Kids has an adorable collection the little ones will be begging you to get them. Whether it's bedroom d cor, a cute lunch bag, or even beach gear, there's something that's sure to get them even more pumped than they are now. The collection also hits shelves June 21, so it's going to be a big day for you!
Related:
These Photos From Toy Story 4 Will Take Your Excitement to Infinity and Beyond
Share:
More in Lifestyle...