Just Like That, Baby Miles Turns 1 and Mom Chrissy Teigen Can t Believe It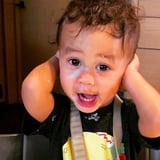 Get the Full Story
It seems like just yesterday we were getting parenting advice from Chrissy Teigen and John Legend shortly after they welcomed baby Miles into this world, but somehow, their adorable baby son is a baby no more. Today is his first birthday, and no one is more excited - and surprised by how fast it all goes by - than his parents. Chrissy snapped an adorable photo of the birthday boy in his high chair, looking just like John, might be we add. She writes: "'I can't believe I'm 1 today!!!!' Happy birthday to the absolute best baby boy I could ever imagine having."
Happy birthday, sweet Miles!
Related:
Chrissy Teigen Filmed Miles Saying "Mama," and Be Still, My Heart
Share:
More in Lifestyle...