4 Pool Workouts to Keep You Cool While Burning Some Calories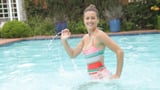 Get the Full Story
Swimming is not the only way to work out in a pool. If the crawl is not your thing and backstroke feels more like a sinus rinse even though your face is out of the water, we are here to tell you that you can still get some exercise in the water. We've rounded up four pool workouts for you try out this Summer. Whether you want to sculpt your legs, tone your abs, or work your entire body - we have a workout for you.
Related:
The Most Flattering Swimsuits For Every Body Type
Share:
More in Lifestyle...