Get Your Home Ready For Summer With These 22 Pretty Pieces of Patio Furniture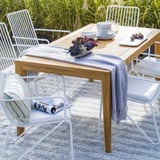 Get the Full Story
When the weather's nice, we'll do anything to be outside as often as possible. That means if your home has outdoor space, you want to make it your own oasis with some cool patio furniture. From couches you'd want to spend your whole Saturday on to luxurious lounge chairs and even Sunbrella umbrellas, you'll never believe you can pick up these products at Walmart, just in time for Summer.
If you're ready to live your best life all Summer 2019, and you've got the luxury of outdoor space, make it worth your while by investing in patio furniture. With these 22 pieces, you can throw pool parties and barbecues, or just create your own outdoor living room. Summer is here, so get ready, all thanks to Walmart.
Related:
Walmart Dropped a New Modern Home Line, and It Makes Us Want to Redecorate ASAP
Share:
More in Lifestyle...