Run, Don't Walk, to Target, Because It Has the Best Toy Story Products For the Whole Family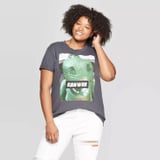 Get the Full Story
As if Target wasn't already good enough to us, it has blessed us with new and nostalgic Toy Story products just in time for the Toy Story 4 movie to hit theaters. The Disney-inspired Target collection is complete with toys and games, clothes for kids and adults, bedding sets, and so much more. Channel your inner love for Woody, Buzz Lightyear, and the rest of the characters with printed hoodies and tees, and give your little one the gift of endless hours of fun with talking toys that will make them believe in the magic of Toy Story all over again.
Shop the best pieces from this out-of-this-world collection ahead, and let Toy Story 4 take the whole family to infinity and beyond!
Related: Even Chris Evans Can't Help but Fanboy Over This Clip of Keanu Reeves in Toy Story 4
Share:
More in Lifestyle...